Back To Our Services
The springs are crucial to the operation of your garage door. Be it manual or automatic, you won't be able to operate it if even one of the springs breaks. In case you have a broken spring, you have to call a professional to have it replaced as soon as possible.
Garage Door Spring Installation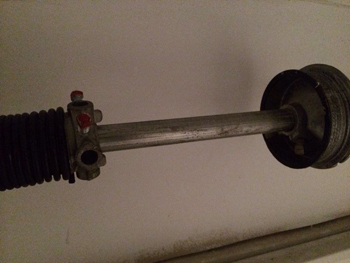 The spring system is installed together with the door. It is not recommended to use an existing system with a new door. This is because the spring specs have to be chosen based on the size and weight of the door. Most residential doors use a single torsion spring. It has to have sufficient length, diameter and wire size to be able to lift the door. The installation involves mounting the spring over the shaft and winding it. Extension springs, on the other hand, come in a set of two. They are attached to a bolt and to a pulley fork.
Torsion Spring Maintenance
It starts with a test of the spring's tension. The first step involves disconnecting the opener using the release handle. Then it is all about lifting the door until it is halfway open and letting go. If the door stays in place, or moves just slightly, the tension is optimal. If the unit shoots up or drops down quickly, then it has to be adjusted. Lubrication is the next step. If there is dirt on the spring, mild solvent should help. Lithium spray lubricant is an excellent choice for all climates. The key to success is to spray all coils from all sides.
Spring Repair
What can go wrong with a spring? The most common issue is too little or too much tension. A torsion spring can be readjusted while an extension one should be replaced. Damage is not particularly common, but if it's present, the best solution is to replace the component with a new one. Similarly, if an extension spring has stretched coils, a new one is needed. When a component is broken, immediate replacement is required. Do not use the door in the meantime. Disconnect the opener to be on the safe side.
Having spring trouble? We at Garage Door Repair in New Port Richey are here to deal with it! Our technicians fix and replace springs of all types, ages and brands.
Give us a call or send an email. Read more about our services on our website.
Back To Our Services